Wishing You Happy Holidays From Our Team!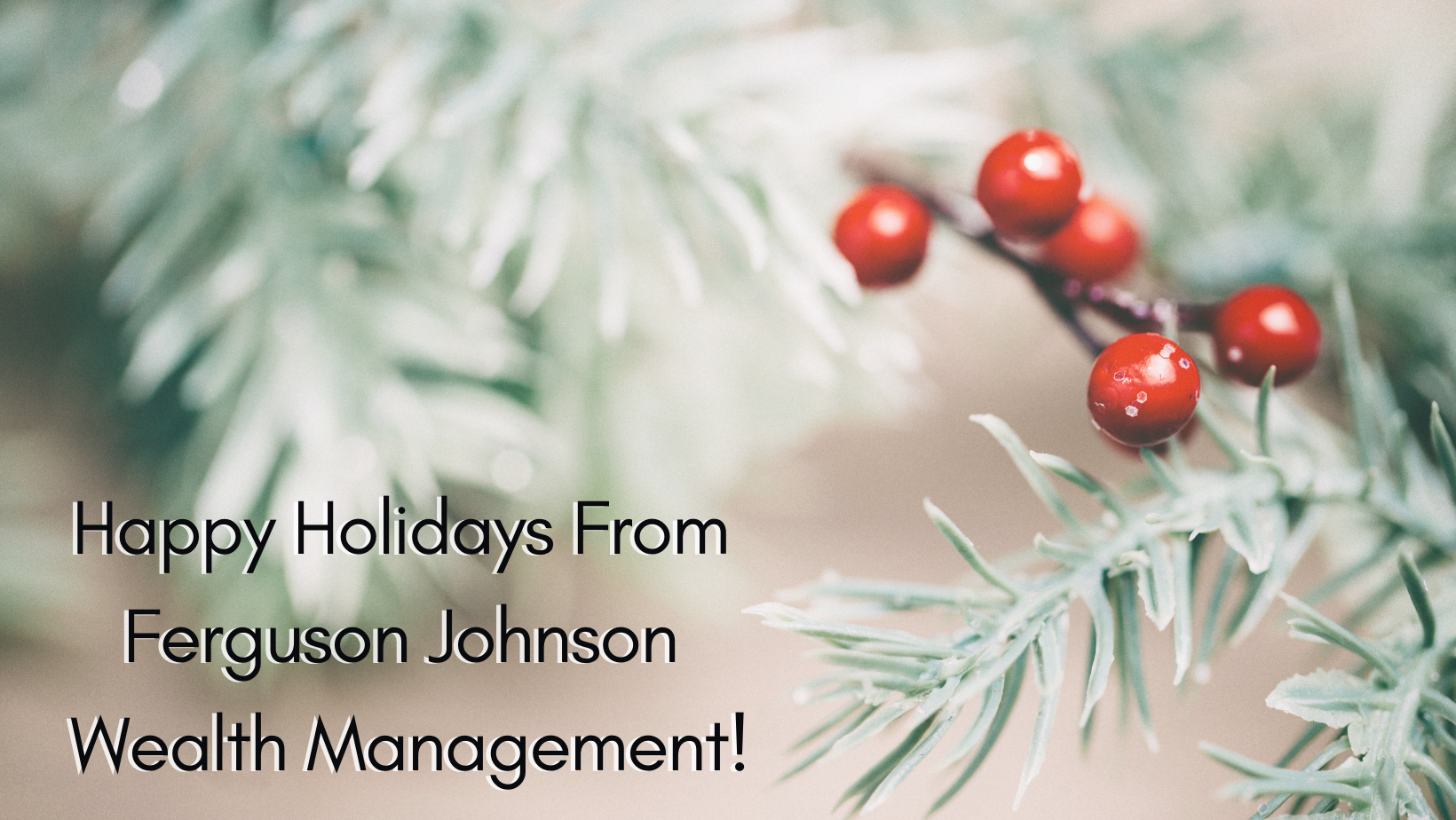 December 13, 2022
|
By Jon Powell, CFP®
|
Financial Planning
Happy Holidays from our team at Ferguson Johnson Wealth Management! We thought we would take this time to reflect on the ups and downs of 2022 and look forward to everything that's to come in 2023. We are so grateful to have such amazing clients and we hope you and your loved ones have a wonderful holiday season. 
Reflecting on 2022
As we give thanks and warm wishes and celebrate the start of the new year, it's important to reflect on all that we've achieved this year. It wasn't always easy, but we have weathered the storms and we are stronger for it! Inflation, continued stock market volatility, and recession concerns are still on the horizon, but we have high hopes for 2023. 
Whether or not you are glad to see this year go, take time to reflect on all that it has brought and the good things that have come from every victory and trial. 
Looking Forward to 2023
We hope you are excited for everything the new year will bring, and we encourage you to think about what you want 2023 to hold for you. The end of the year is a great time to set new goals, dream about the future, and find renewed motivation. Use this season to recharge your batteries and create a vision for the coming year so that you can hit the ground running in January. Enjoy some well-deserved rest and get excited for the new year!
Thank You for a Wonderful Year!
Everything our team at Ferguson Johnson Wealth Management does is all due to you. Your loyalty brings new clients to our doors, and your trust helps us build strong relationships that last a lifetime. We hope that in serving you, we have provided your family comfort in knowing that we are here to help whenever you have questions or concerns. We understand that life changes can happen at any moment, and we want you to rest easy knowing that when you need advice, guidance, or simply someone who will listen, we're here for you.
As we prepare to enter a new year, we look forward to continuing to help you pursue your financial goals in 2023. Here's wishing you joy and laughter during the holiday season and a happy new year!
Let's Connect
Are financial worries of any kind disrupting your joy this holiday season? Don't hesitate to reach out to check in on your financial plan before the end of the year and set yourself up for a successful 2023 and beyond. Reach out to us at 301-670-0994 or by email at djohnson@fjwealthmanagement.com. We look forward to hearing from you!
About Derek
Derek Johnson is an investment advisor representative and is the principal and director at Ferguson Johnson Wealth Management, an independent, fee-only fiduciary firm that has been helping clients plan for and enjoy retirement for more than 40 years. Derek also serves as head of the investment committee; in this capacity, he is in regular contact with leading academics in the areas of portfolio and wealth management and has presented research on the benefits of asset class allocation to the American Association of Individual Investors (AAII). He holds the Chartered Retirement Planning Counselor℠, CRPC® certification.
Derek is known for providing honest advice and excellent service to his pre-retiree and retiree clients and feels privileged to be a trusted resource and support his clients can rely on. Derek has more than 20 years of experience and earned a bachelor's degree in finance from the University of Maryland. Outside of work, Derek enjoys spending time with his wife, Tiffany, and their two daughters, Sloane and Adalynn. He also loves football and traveling. To learn more about Derek, connect with him on LinkedIn.